Born on a Bayou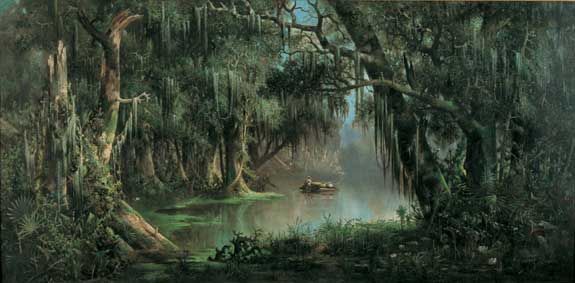 Welcome to my corner of the swamp.
My choice of army for the GC XII project is wood elves.
When considering a potential army to build I ask myself a few questions:
* Do I like enough of the miniature range to field an army that I'd like the look of?
* Do I like enough of the list selections to make an army that I'd find fun to play with options for varieties to change the style of play?
* Can I think of a way to personalize this army to make it my own?
Wood elves are a good fit for me.
I don't see wood elves as a proper 'army'. They seem best suited as a guerrilla defense force or strike force. I'm comfortable with that for them. For some armies, when I see 50 models or so it just looks wrong to me, but for the wood elves it doesn't feel out of place because of their background. Wood elves are also very expensive point-wise, without any cheap troops- perhaps they'll benefit from a points adjustment in the future like the dark elves have had, until that day however, it does limit the numbers the army will have. The Army will be a mix of elves & forest spirits. I was tempted to do a forest spirit army with no elves, but the simple fact is I like the idea of the elves- it helps me tap into my fantasy roots which is grounded in Tolkien.
I decided to make a 2250 list with all the visual elements I would want most. If I can accomodate it into the schedule I also want to make options for the army to switch out for some selections to create different styles of play.
The Starting List
Lord on Dragon saving 100 points for items & extras which may change from game to game. I'm struggling to decide how I'll outfit him, but for the look of a dragon, he's a must have.
Alter Noble with 50 points for items
level 1 mage with 2 dispell scrolls (an unfortunate necessity in the game environment. personally I think the magic system needs a complete overhaul)
Branchwraith with magic using upgrade and +1 dispel dice sprite.
2x 10 Glade Guard with musician
8 Glade Guard Scouts with musician
2x 5 Glade Riders with musician
3x 8 Dryads
3 Treekin
Great Eagle
Treeman.
Extras: undecided as yet. I'll likely have a Lord on foot, or mounted if I make a unit of wild riders- but these would need to be converted from something other than the GW models (which I don't care for). I may make a unit of Eternal Guard- depending on obtaining many of 1 bit (more on that later) since they'd also be converted. the extra rare, may be a unit of waywatchers or a 2nd treeman.
The Look
The theme of the army is the Bayou. Swamp Elves. When I thought of this idea it wouldn't let me alone
While I love temperate forest elves, I felt a swampy bayou would make a fun modeling project without being so different that it would seem out of place on an average wargaming table. I want the army to have a dark feel but not evil. A cross between Mirkwood & True Blood.
So, everything I will put in this army must fit the theme.
For basic troops I really like the models of the glade guard. The ragged layered clothing is brilliant and should really lend itself to painting in a collection of colors. I prefer the hooded heads though- I'm not a fan of the strange partial helmets. Hoods also seem more indicative of the swamp environment. I made the 2 glade guard units, they still need green stuff and are unbased. 2 models I used unhooded heads, though I may green stuff hoods- or at least a hood tossed back behind their heads. Though I won't have a champion in troop units I'll still have a model in each unit that looks like a leader. For the Glade Guards I may have a couple of 2 or 3 base length bases so I can add some trees & other elements between the models.
I got several good suggestions for dryads themed for the bayou, but I think i'll use the actual dryads- I have the models, I like the models, and have some plans for converting them to be more swampy.
Treekin will be mini vignettes.
The Treeman is going to be "Old Man Mangrove" with an alligator on his base just for visual fun.. I imagine the alligator hangs around to get scraps from the Mangrove's meals
The Glade Riders will be on Cold Ones, painted like alligators. Horses would not do well in the swamp, so they had to go. Luckily the cold one models are ace and should look very much at home in the swamp.
The Dragon: I'm leaning more and more to use the new orc wyvern that was just released and convert him to a dragon. he looks remotely gator-like and his pose has a hunched & crafty feel that fits in well.
Bases: I ordered some non-beveled bases this week so when they arrive I'll see if that bit of extra surface area is a benefit to what I want to do. I'll have elements of water effect, trees, fallen logs, ferns & cattails. So my glade guard have no bases yet, but that is ok for now- I have limited free time and a lot of other things to do for this project while I wait for the bases- lots of assembly to do.
Planning out the year: I will try to get all the glade guard done for the first update. I want to start with them as the visual anchor of the army.. something to refer back to for color & style as I add to the army. Plus it will be nice to get them out of the way, and 'play' with the more converted selections later. And I know I'll be out of the country for many months next year, so I want to save some of the less numerous selections and ones with fewer colors for the months I'll be painting away from home, which will be an interesting experience and challenge in its own right.
I think Domus had a good idea in his request in his GCXII thread, in that if anyone has suggestions or references in pictures I welcome them, but if you can include them as *links* in your replies rather than inserted pictures it would help keep this thread organized and easier to follow the project as it unfolds. Thanks and I welcome any comments, suggestions, etc. I'll try to update things here in between the monthly GCXII updates.