THIS IS A REVIEW OF THE KoW TOURNAMENT HELD IN BRISTOL ON 14 MAY AND IS A COPY OF THE REVIEW POSTED UNDER THE LATEST TOURNAMENT NEWS
On a warm May day, 10 keen Kings of War players met at Bristol Independent Gaming for a 3 game tournament organised by Paul Fordham. The full tournament pack is available on the tournament news web page but key things to note are:
1. No allies were allowed.
2. Each player had 3 cards which gave one 'free' additional unit to their army for each game, each card could be played only once. The units were: a mounted wizard knowing all the spells, a giant with a one-use throwing weapon causing multiple hits and a cannon.
In preparation, I had to modify my usual list and go for a 'pure' Goblin list. It would be interesting to see how I would get on.
My army:

And some old friends, both now masquerading as Giants:
The Fox also represented Salisbury at this tournament. He dropped the bath toys that had been so successful in the inter-club challenge against Oxford and instead raided his children's Halloween store for creepy-crawlies to represent a Night Stalker army.
Prizes up for grabs: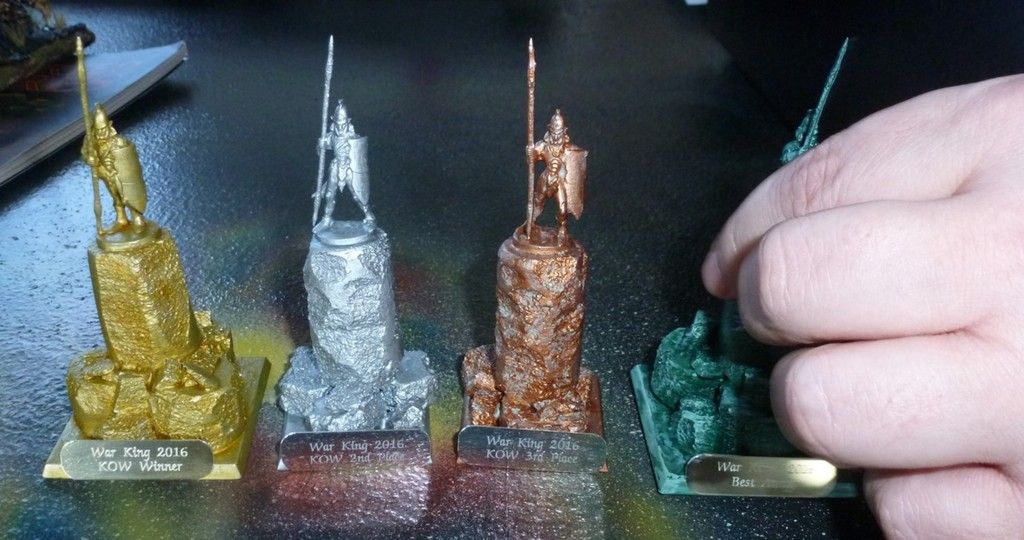 GAME 1
Game 1 was an Invade scenario and I was to face John Bourne's Brotherhood army. Lots of Knights, including a flying character with Blade of the Beast Slayer and a Regiment of flying Order of the Forsaken, several characters and Swain's Rangers. John took the free Giant and I took the free Wizard.
The game twisted and turned and things were looking black for me when he got the flying character into my rear and the Forsaken into my flank. I also became bogged down in trying to kill one of John's characters that suffered a mountain of wounds but survived on Double 1s. Twice.
Three moments turned the game in my favour:
1. Getting a very lucky dice roll to waver the Regiment of Forsaken before they could sweep through my flank.
2. Killing John's Giant in the last round of combat.
3. Me remembering the scenario rules in the last turn, abandoning combats, that were mostly taking place in my half of the board, and high-tailing it into John's half to claim a scenario victory.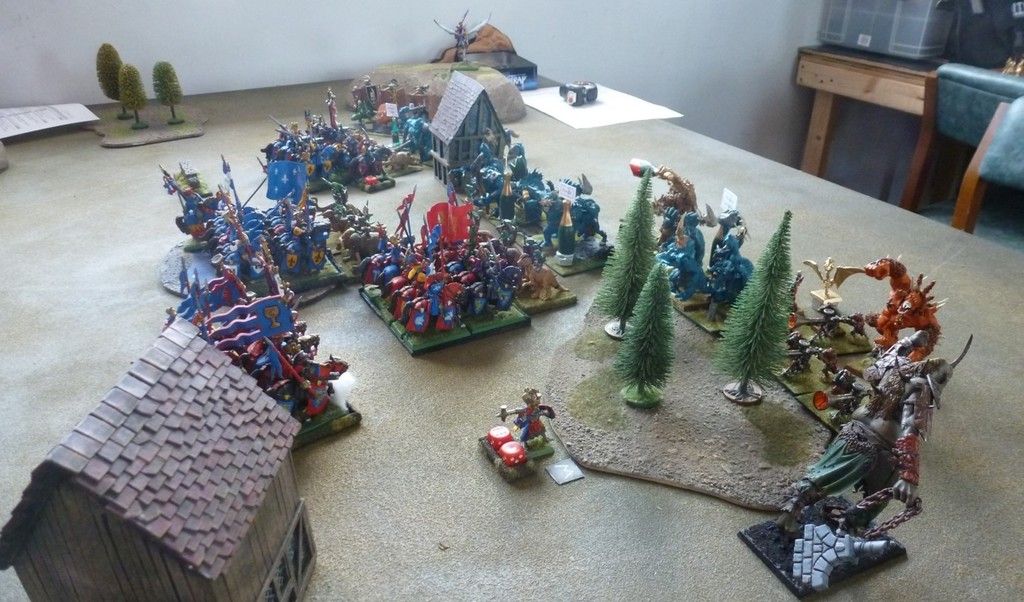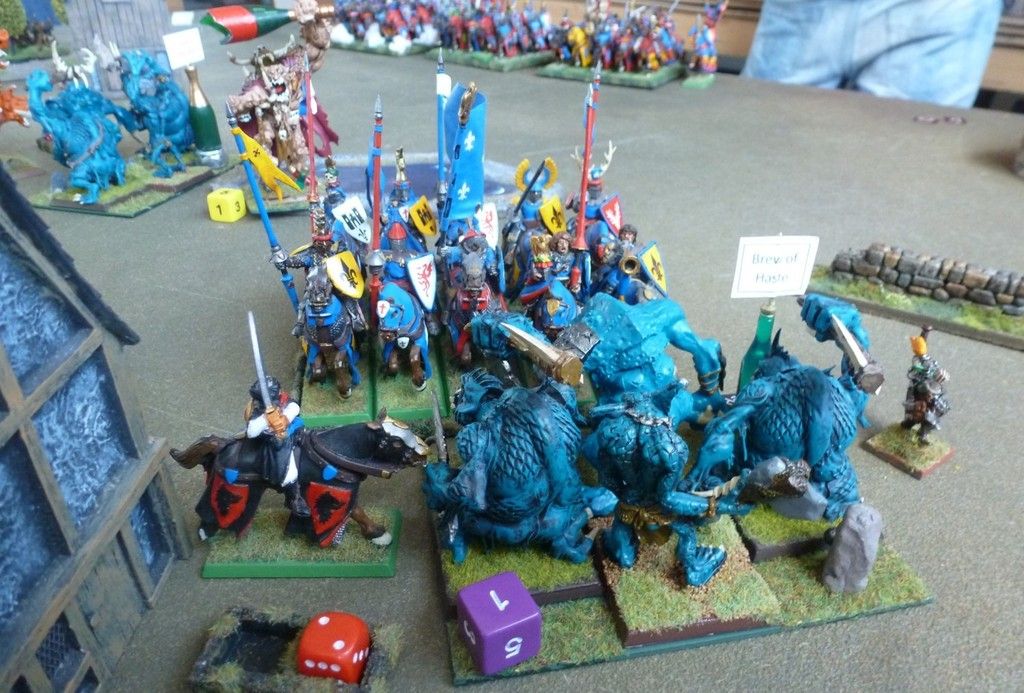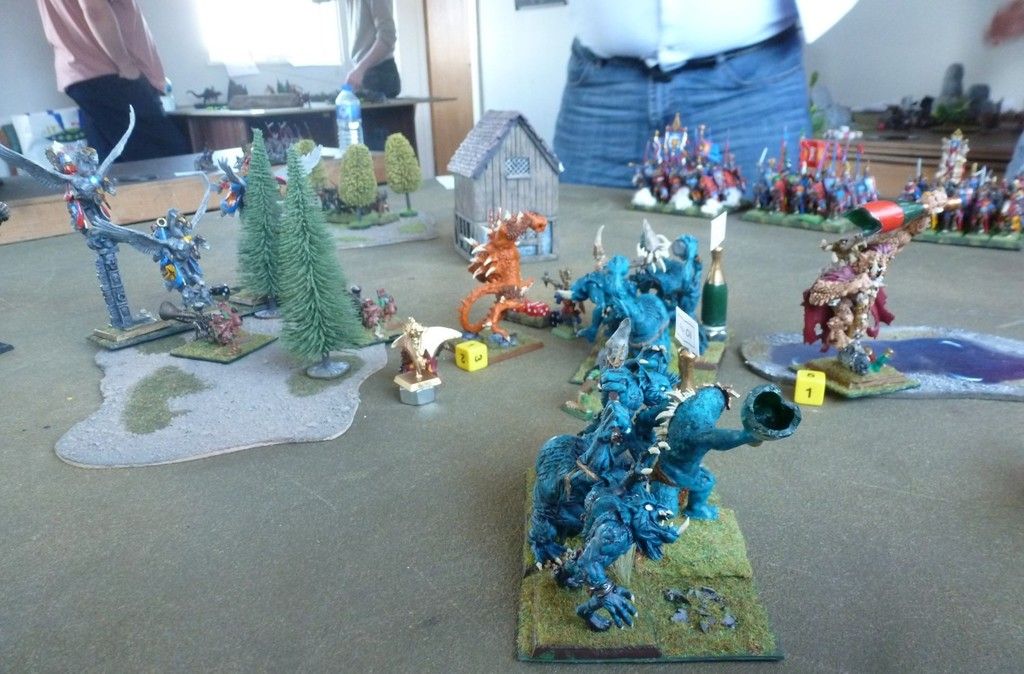 Anything but ... Oh!
The Fox played a Nature army, gaining a win.
ELSEWHERE
Matt's Dwarf army. I know that 'counts as' units are allowed but a can of drink as a monster?????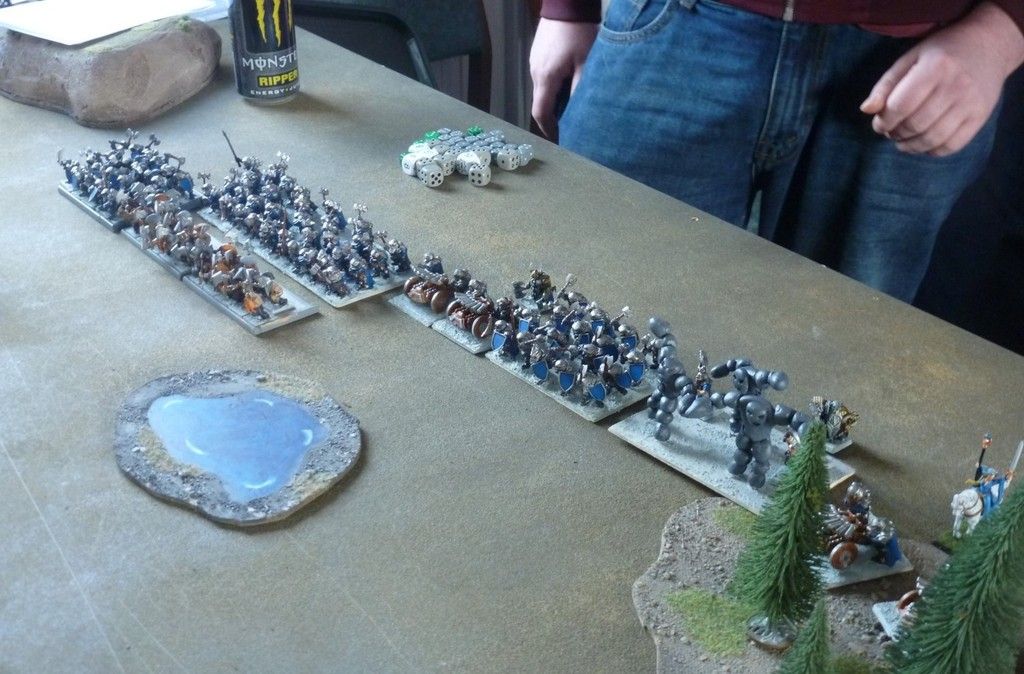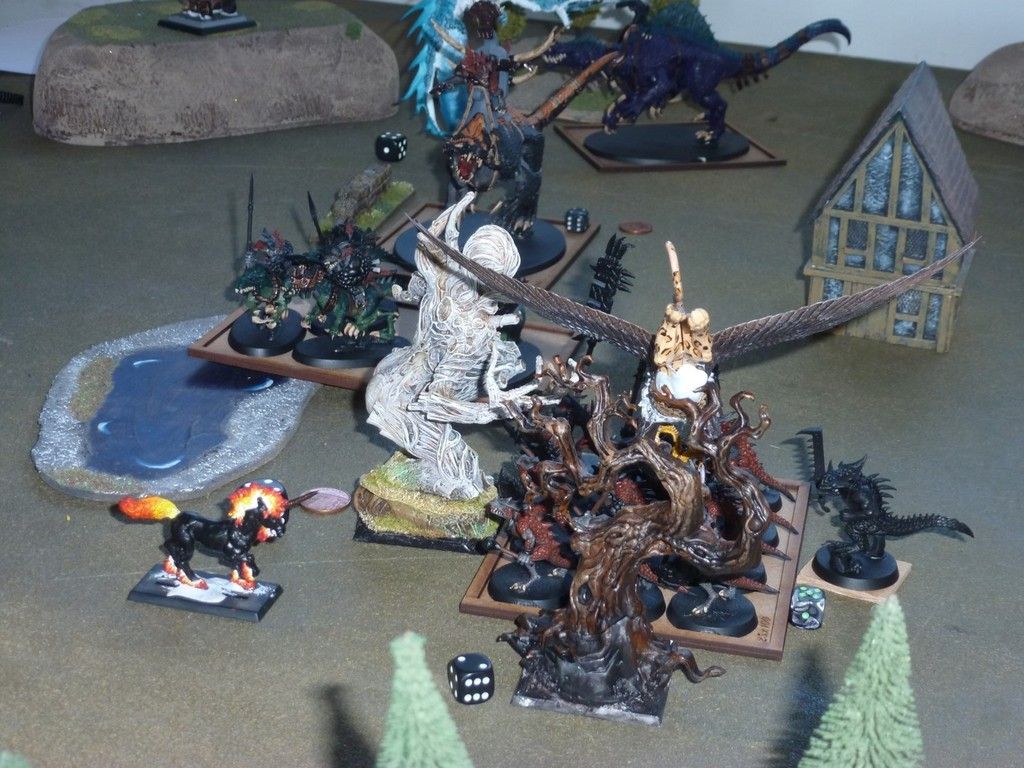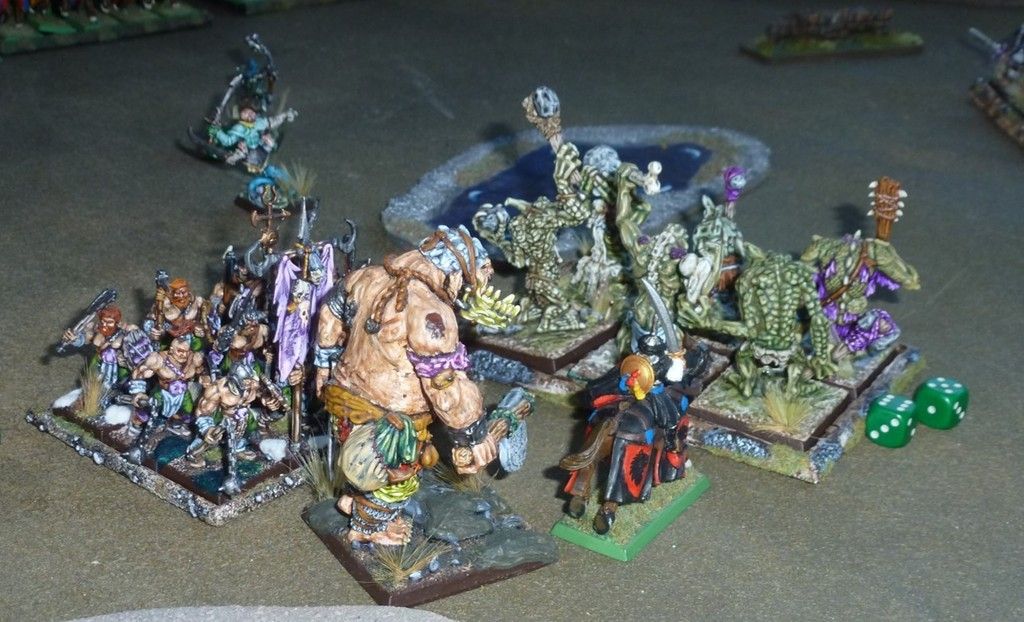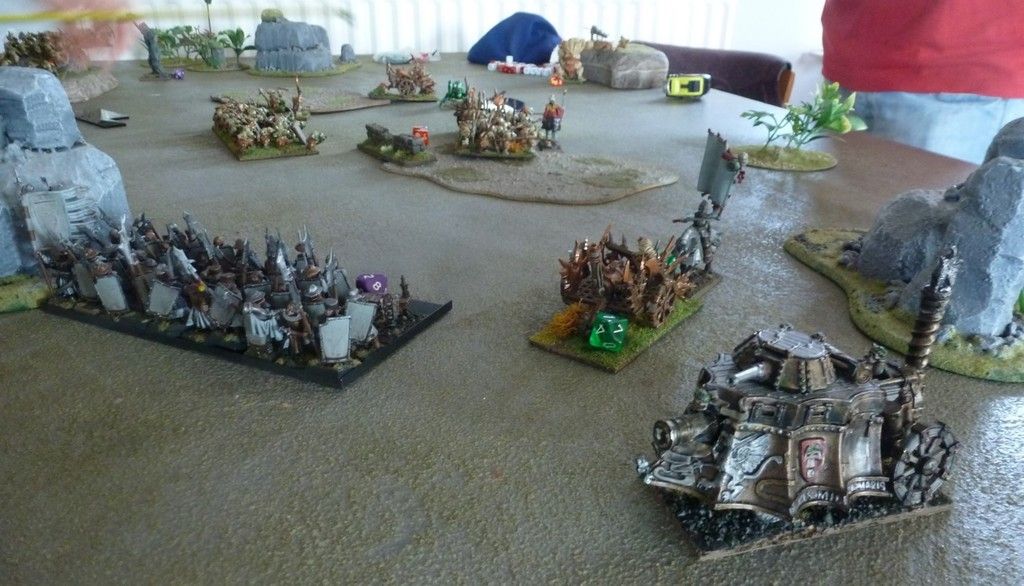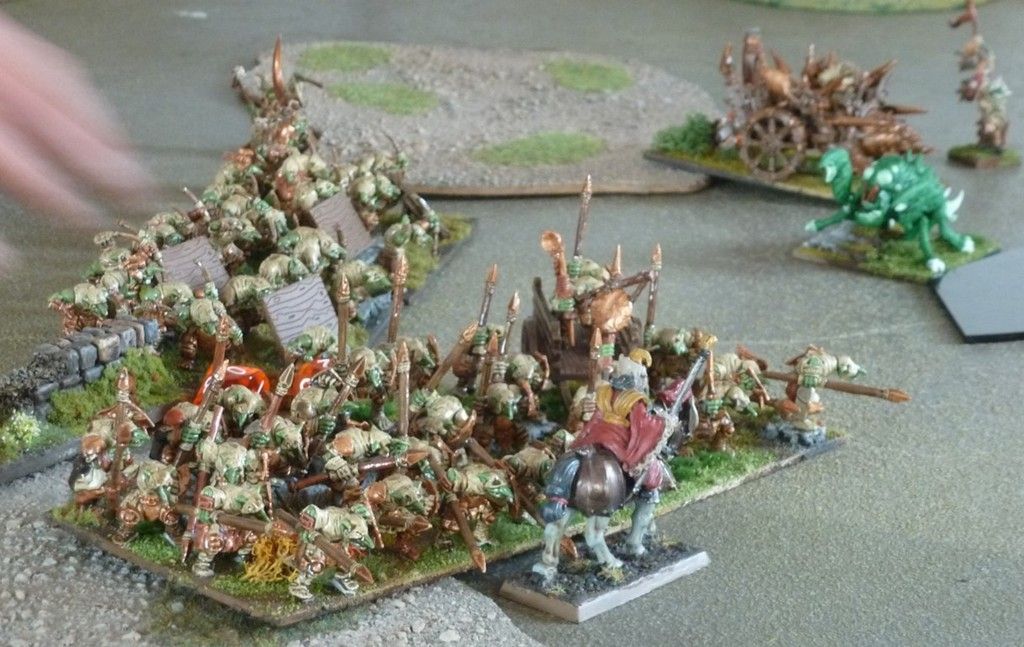 GAME 2
For Game 2, I faced Dave's League of Rhordia army in a Loot Scenario. Dave's army included a Horde of Honour Guard, 2 Regiments of Knights, a Horde of Dogs of War, some Militia, Baron on Arlaz and a Halfling Iron Beast. I took the free Giant and Dave took the free Cannon.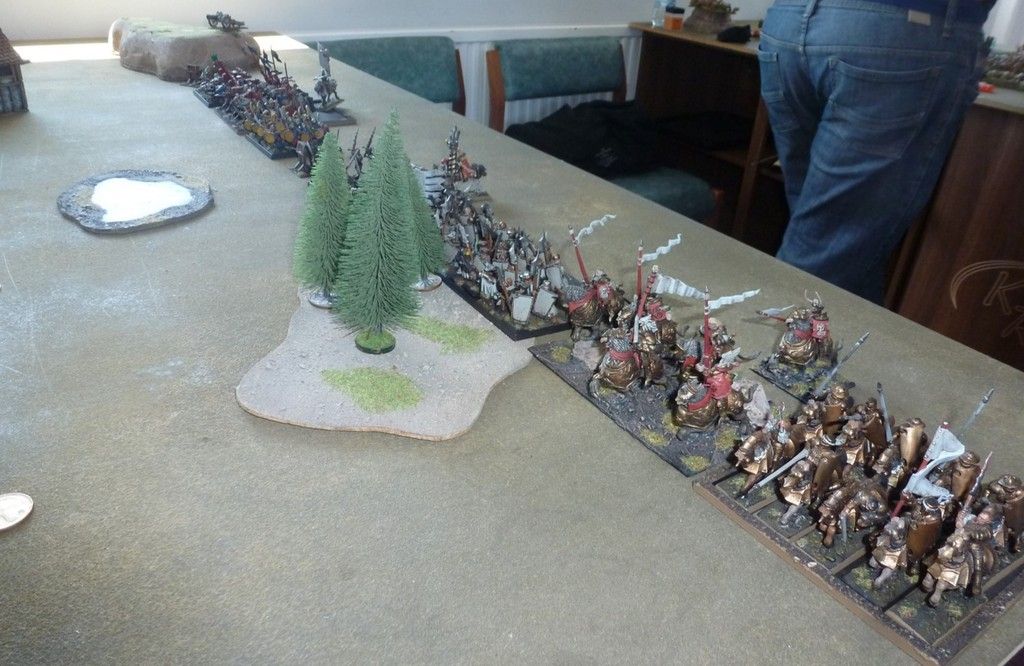 This was another bloody encounter which turned on 2 key moments:
1. Early on my Giant threw its bag of Halflings at the Iron Beast, hit and damaged it and then rolled an unlikely nerve test to rout it. Result.
2. One of my 40 point Goblins taking one for the team by sacrificing himself in front of the menacing Dogs of War hordes, and surviving for a turn on Double 1s. This enable me to combo charge the unit and, even with minus 2 to hit (difficult terrain and ensnare), rout it in one turn (it had already taken some wounds).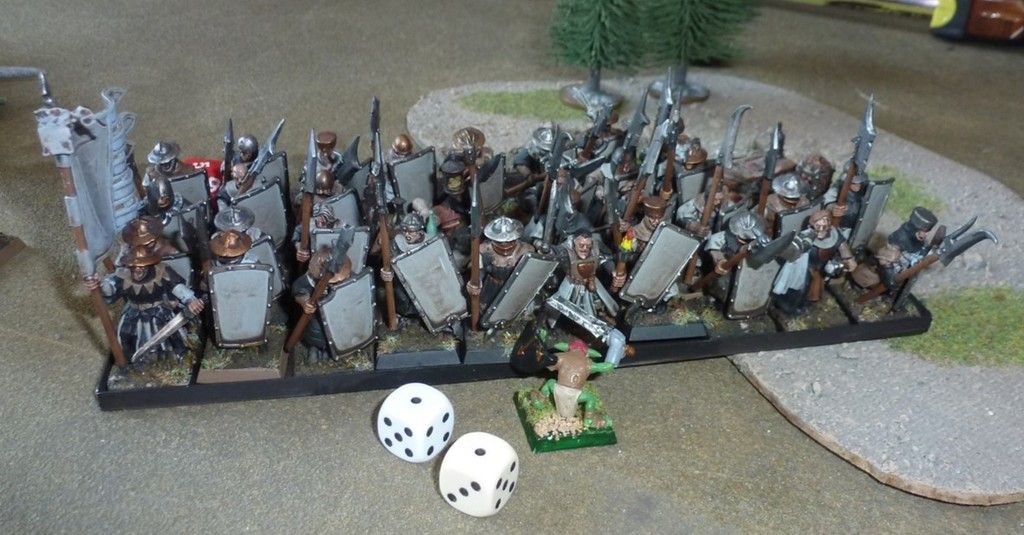 Chalk up another one for the Pure Goblins. Meanwhile, The Fox was fighting out a draw against George's Goblins.
GAME 3
My Game 3 was to be a Goblin-Off against George on Table 1 in a Kill Scenario.
George's army included: 3 hordes of Spitters, 2 Giants, 2 Trombones, 2 Hordes of Trolls, 2 Mincers, 2 Sharpstick Throwers, King on Chariot and various Wizs. We both took the free Cannon.
George deployed as below: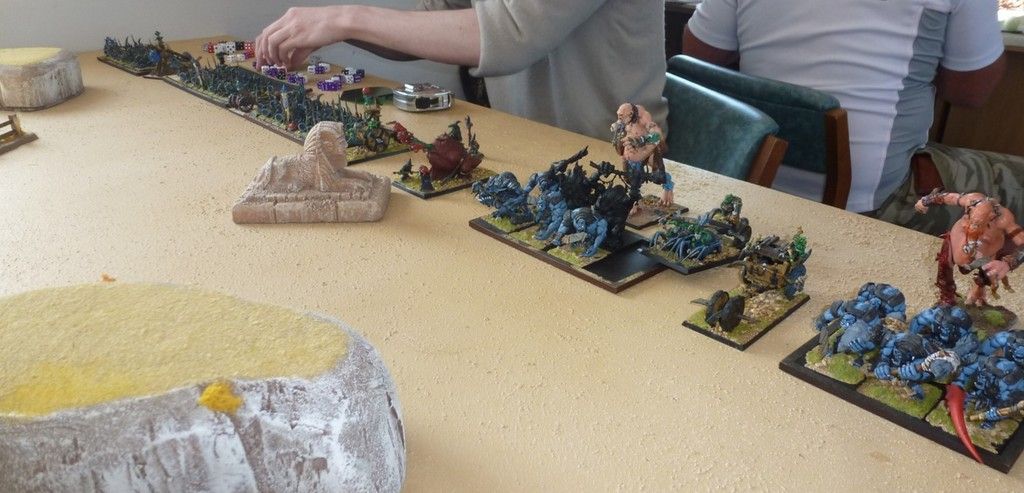 In order to attempt to outflank the gun-line, I decided to deploy heavily on the right where some terrain would block the worst excesses of George's shooting. Take a look at the picture here: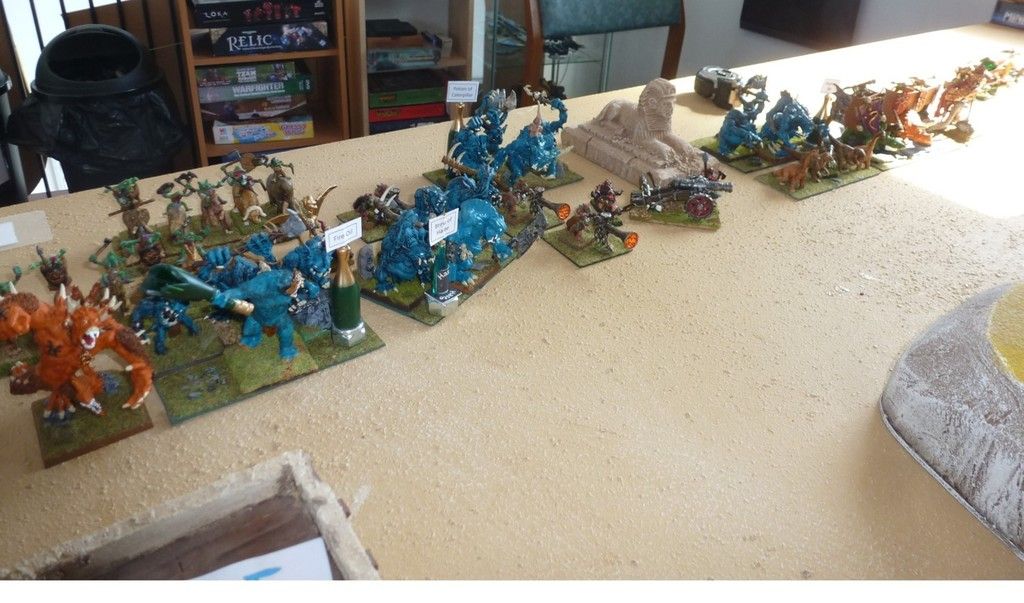 Do you see the building in the bottom left just in front of my right flank? I didn't. What is that I hear you say? "Is KB going blind in his old age?" No, what happened was that I balanced my tray of models on the hill and building while deploying and forgot that the building was there – even though it was supporting my tray. Imagine my delight on lifting the tray to see 2 of my units facing blocking terrain.
This was going to take a bit of unscrambling.
Was it Napoleon who said that he would rather have a lucky general than a skilful one? If so, he would have welcomed me with open arms.
The battle unfolded with me pressing forward through the narrow defile on the right and trying to unjam my army while George shot at what targets he could and started moving the shooting hordes towards my right.
The game turned on 4 points:
1. My free and laser-guided Cannon, which you can see in the picture above which was facing George's shooting units. It hit on each of the first 5 turns. In the end, before firing I said, "Which unit shall I remove this time?" before rolling a 5 or 6 to hit and then a shed-load of wounds. This single-handedly pulled me out of the brown and sticky.
2. George's war engines and free Cannon that had difficulty in hitting a barn door placed right in front of them.
3. Rolling unfeasibly highly when testing nerve on George's units after getting into combat.
4. George rolling unfeasibly poorly when testing nerve on my units from shooting or combat.
In the last turn, One of George's Giants got very lucky in routing one of my Giants but it was too little too late and the boys notched up another victory.
Elsewhere, The Fox ran into a rampant Undead army commanded by Chris and tasted his first defeat for some time.
Chris's undead army looking an awful lot like renegades form the Empire of Dust: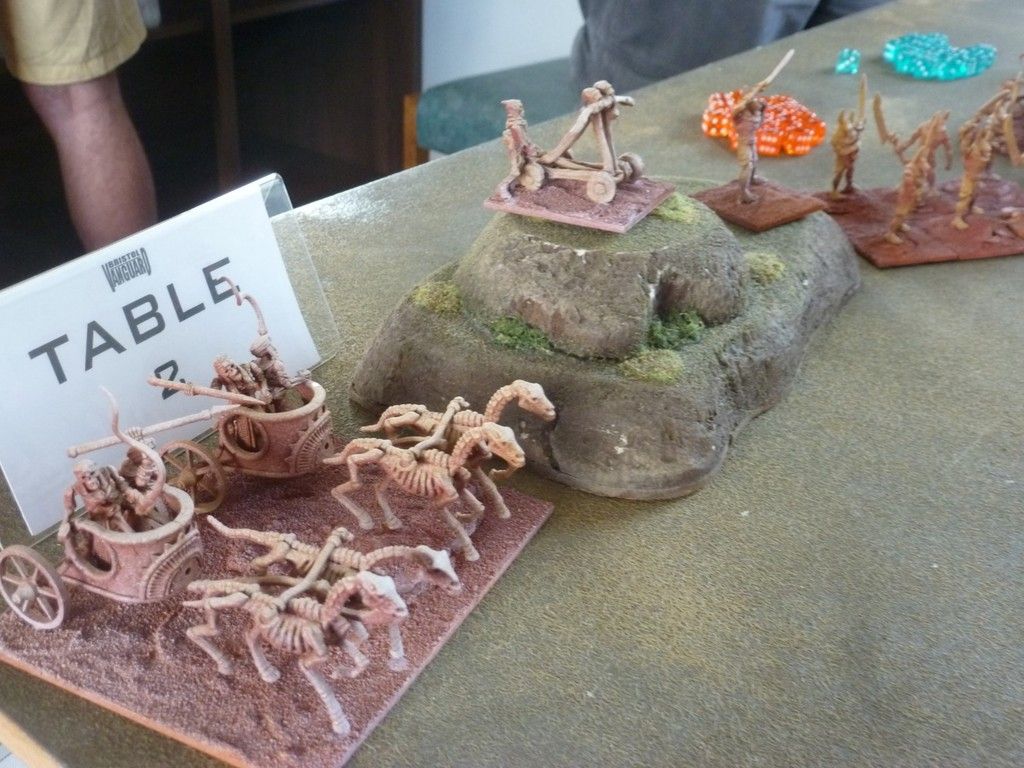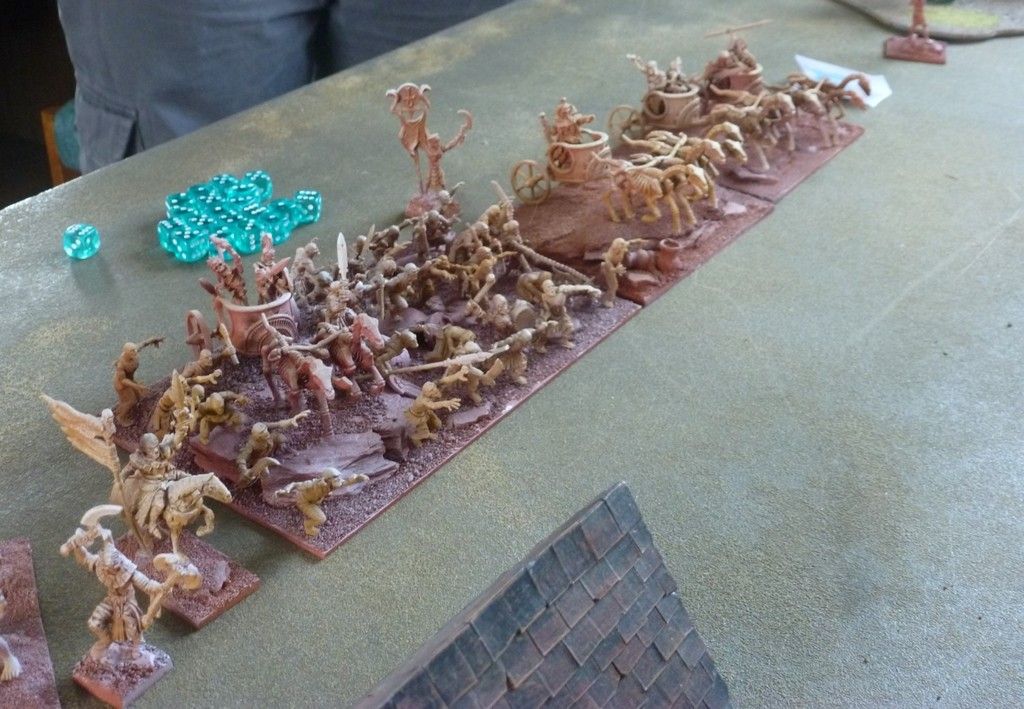 THE RECKONING
And so to the reckoning.
John, my Game 1 opponent, took the award for Best Army.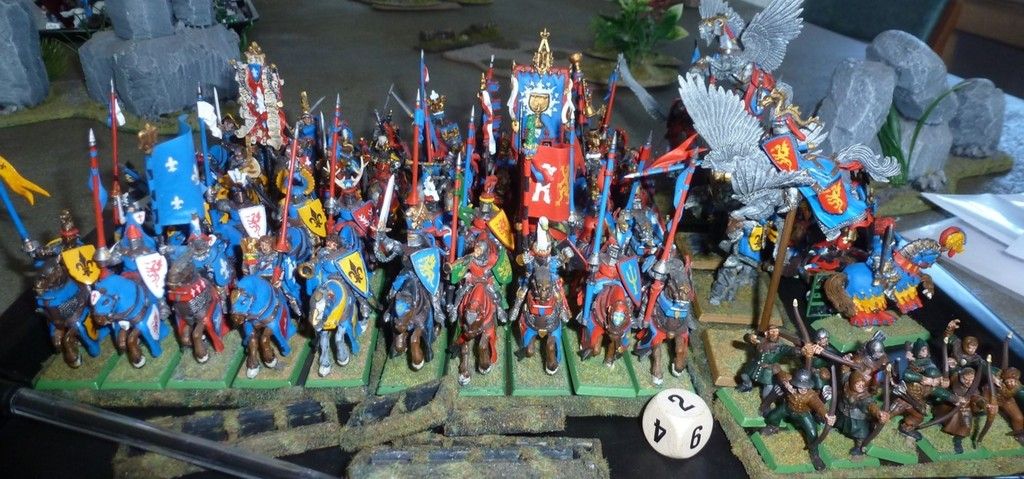 Matt took third place and was so excited he had to run out of the tournament hall to tell the world – hence no photograph.
It then came down to a tie on tournament points between Chris and me, which I ended up winning through having butchered more of my opponents.
Chris taking second: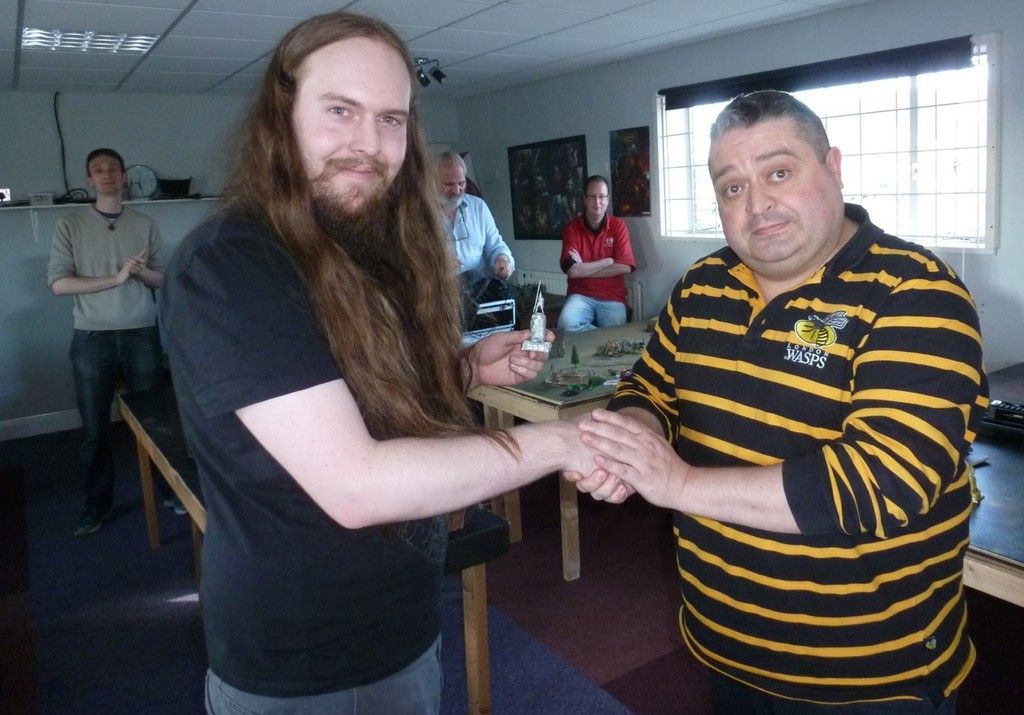 Our hero taking the honours:
The winner's loot:
The Fox ended up just out of the prizes.
EPILOGUE
Thanks go to Paul for organising this successful event and to Mantic and Kromlech who sponsored the prizes.
Thanks as well to all of my opponents and commiserations to the unlucky George – you might want to consider getting a horseshoe or a rabbit's foot before the next tourney.