7th May saw the inaugural Club Challenge between Oxford Gaming Club, the Dreaming Spires, and The Salisbury Legion, representing UK's tallest spire. The challenge was set for teams of 3 over 3 rounds. Scoring was based on 15 points for a win, 10 for a draw and 5 for a loss with points then adjusted to reflect the amount of blood spilled.
The Salisbury Legion was represented by:
Andy – Men and Ogres
Paul - Trident Realms
Jon – Varangur and Goblins
While the Oxford team comprised:
Roland – Elf
Ed – Ratkin
Mike - Varangur
The competition was held at the home of the Salisbury Legion and kicked off at 1000 with an Invade scenario.
On Table 1, Roland and Andy played out a hard-fought contest in which a unit of Andy's knights was saved by two double 1s in consecutive turns, ending up with 45 wounds. Unfortunately, this was not enough to save Andy from a 17 – 3 defeat.
Andy's Knights and Ogres assault Roland's Elves:
Andy and Roland discuss the metaphysical implications of rolling Double 1s: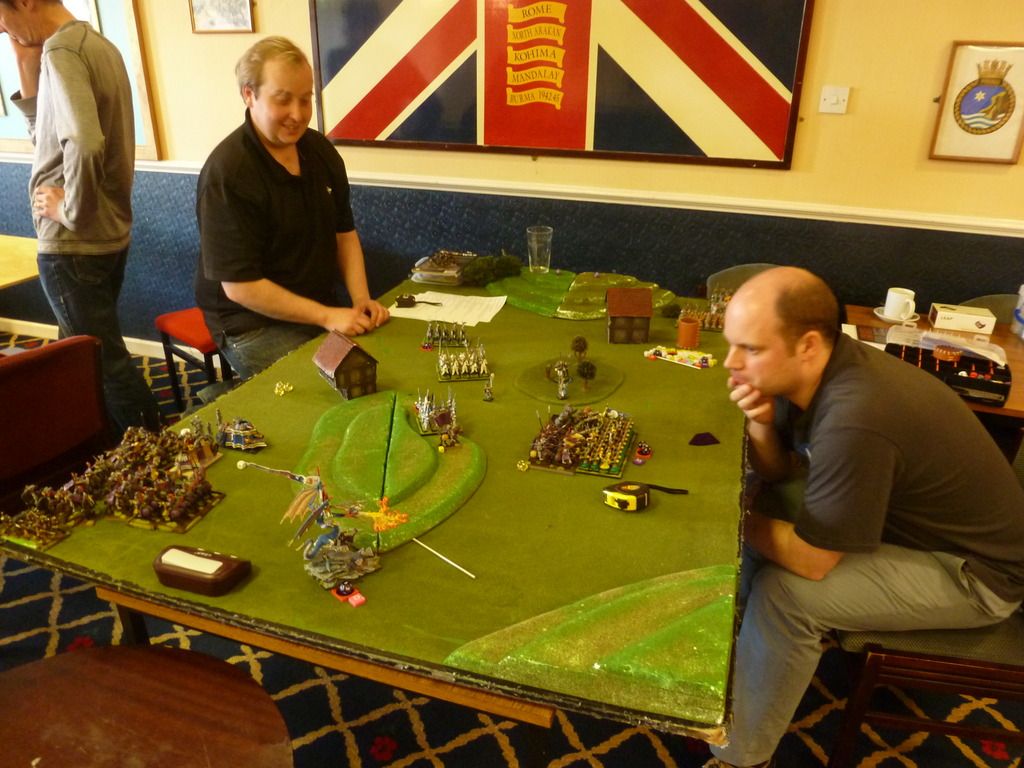 On Table 2, Ed was completely befuddled by Paul's bath toys, his Rats not seemingly knowing whether to play with them or kill them. Paul emerged the victor by 16 – 4.
Paul explaining to Ed how his Trident Realms' warriors will survive in the desert.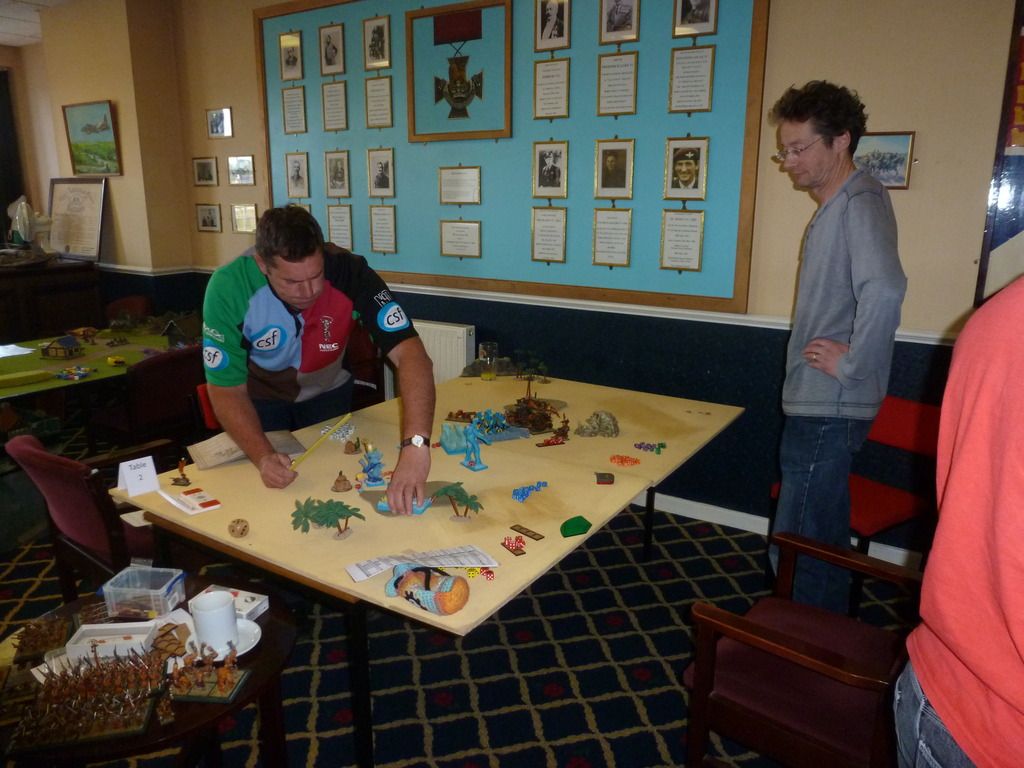 Table 3 saw a Varangur civil war between Jon and Mike. This was a bloody affair with a massive slugfest in the middle of the board. Ultimately, it was a draw in the scenario with Mike gaining an extra point for out-killing Jon's men. In a decisive moment in this game, Mike's Bloodsworn horde with +1 to hit charged one of Jon's Skalds with Defence 4, and caused 2 wounds – the Skald holding to deny the Bloodsworn entry into Jon's table half.
Rats vs Trident Realms: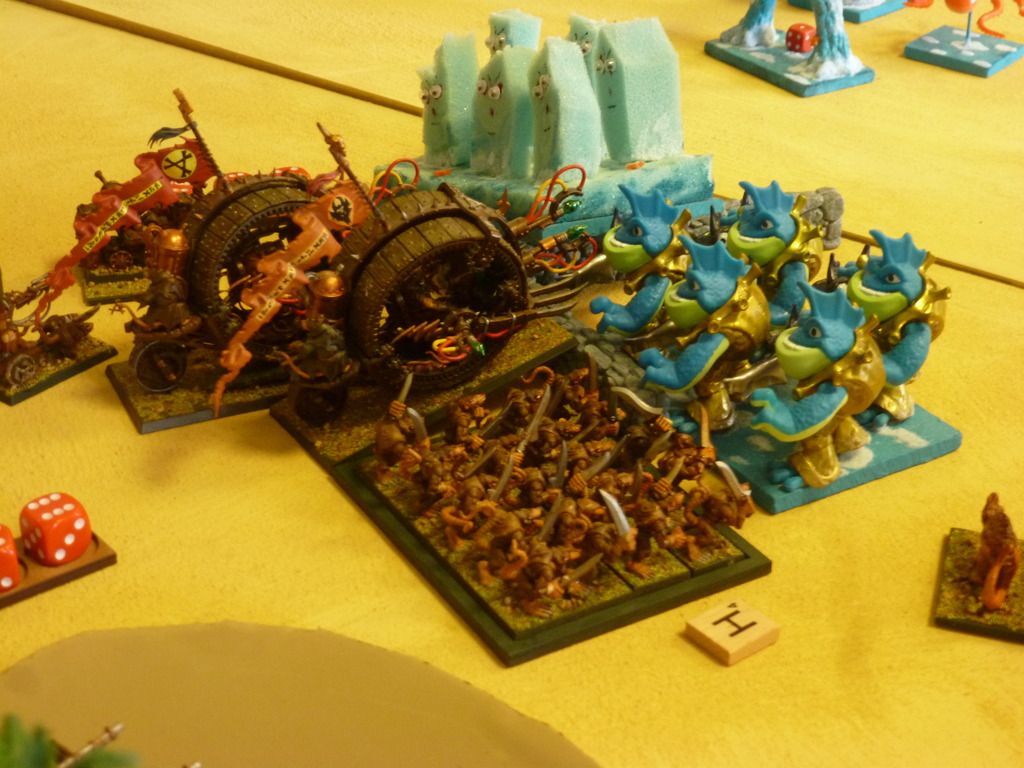 Round 2 was a Kill and Pillage scenario.
On Table 1, Paul's Trident realms ran out 17 – 3 winners against Mike. On Table 2, Roland managed to seize 2 objectives to Jon's one with one contested and also out-killed the Varangur, his Dragon Lord being particularly irritating with its fire breath, winning by 16 – 4. The Oxford team did not have it all their own way and Paul pulled off a 17 – 3 win against Mike. Following this round, Salisbury were trailing by some 16 points and a major push would be required in the last round to turn things around.
Roland's Dragon breathing fire:
Round 3 was a Loot scenario.
On Table 1, Ed's Ratkin made an early dash and secured one of the objectives. Jon's Varangur meanwhile grabbed the other 2 with a Horde of Direfangs and a Cavern Dweller. These units then tried to escape but were hampered by being unable to march in a forest. Ed' Rats then started a frenzy of charges to try to break through Jon's flank defence while peppering the loot – carrying units with every available shooting weapon. The final decision came down to a charge against the Direfangs, in which the Rats failed to wound, while every available shooter targeted the Cave Dweller, eventually causing 12 wounds. Needing a 6 to rout the monster Ed rolled a …. 3. Victory to the Varangur by 14 – 6.
On Table 3, Roland followed Ed's and Mike's confusion while playing Paul's bath toys and Paul ran out 17 – 3 winner.
Paul's Trident King: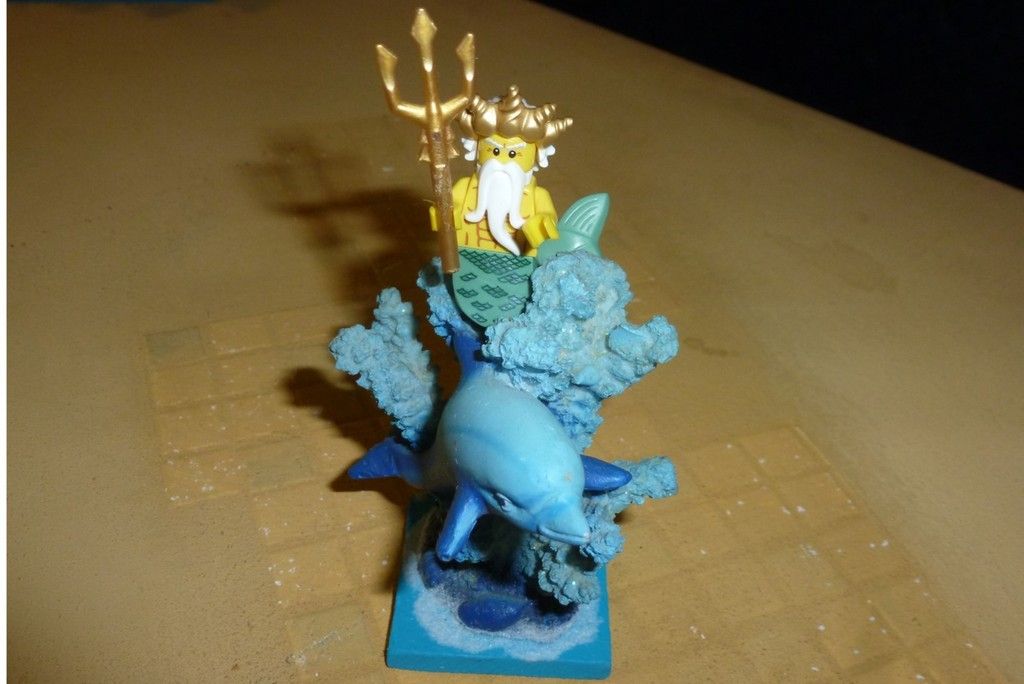 Unfortunately, Andy's men let him down against the Varangur, Mike's Direfangs massive destructive output proving pivotal here.
Andy's army of men: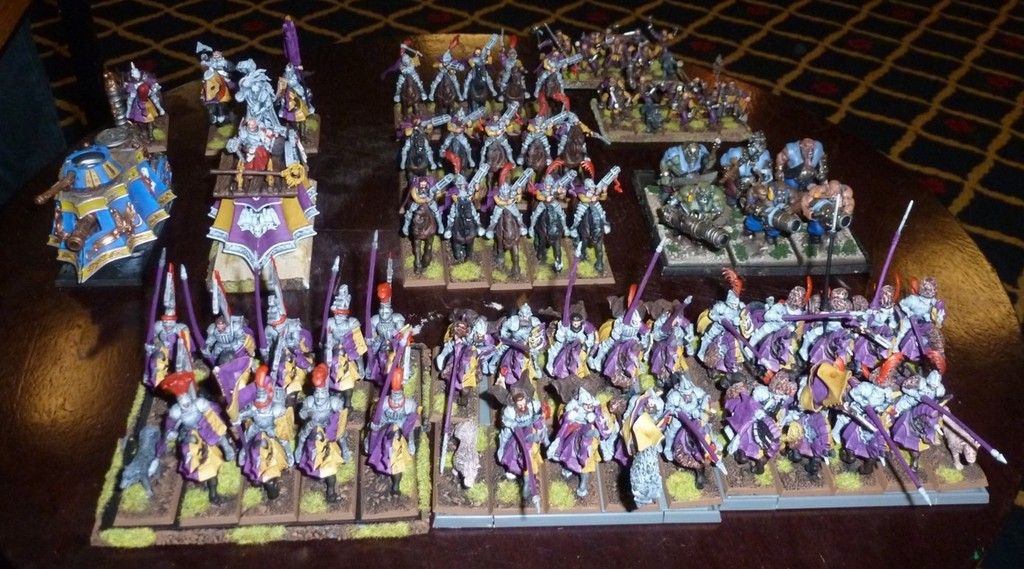 And so to the final reckoning with Oxford emerging victorious by 96 points to 84.
Well done Oxford.
Thanks to everyone who played today in good spirit. Salisbury will be back for our revenge.